One of the things I had really been looking forward to was the opportunity of taking some flight shots. Amongst others,Goa's skies are full of raptors .
On my second day I discovered I had a major malfunction with my lens, quite simply it wouldn't focus automatically and relied on manual using AF to fine tune it in the end. This meant I couldn't hand hold my camera and relied on using a tripod thus cutting down my flexibility.
The NWBF came to the rescue with some handy suggestions from Steve Fletcher via a PM or two. It looks likely that the lens connectors are in need of attention but at least my attempts to clean them improved matters a little. Anyway, all was not totally lost as I had a tripod.
In the first week I was determined to get closer to the resident Osprey. My first couple of attempts resulted in the bird moving away. There was a constant passage of people walking past the shrimp ponds, both birders and locals going about the course of their daily business. It wasn't as if I was causing the bird any extra stress. It moved on a regular basis anyway.
By about the fourth day, the bird must have realised I wanted a picture and to my amazement I walked to the edge of the water, some 30 feet away from the bird and spent the next twenty minutes taking about 200 shots determined to get one that looked good. I took converters off, put them on, changing various settings, you name it the bird was the perfect model.
It was only when I got home I realised that I had inadvertently changed the EV button to +4.0. I shan't explain because I don't understand either. I know I should not have done it though.
Left side please
and your better side from a slightly different angle a few feet away. Better background.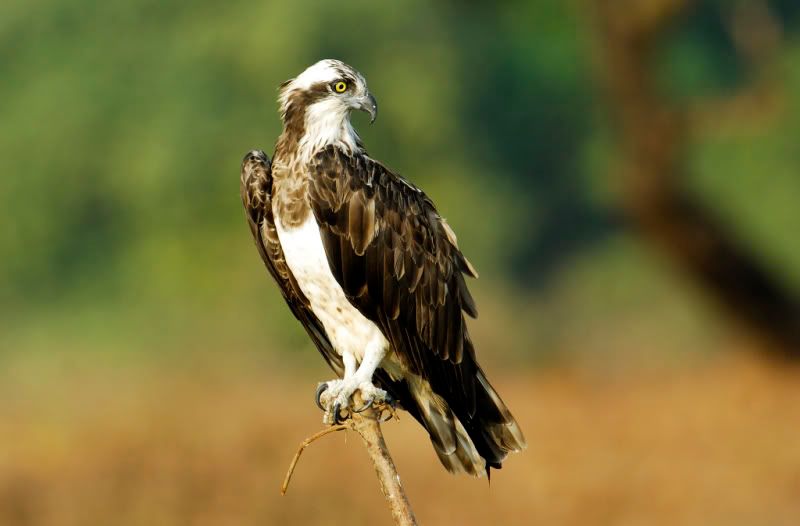 Eventually the bird decided to go, strangely because someone else was walking towards us some distance away.
I like this shot because it demonstrates the power of the wings and explains the ability to carry heavy weights.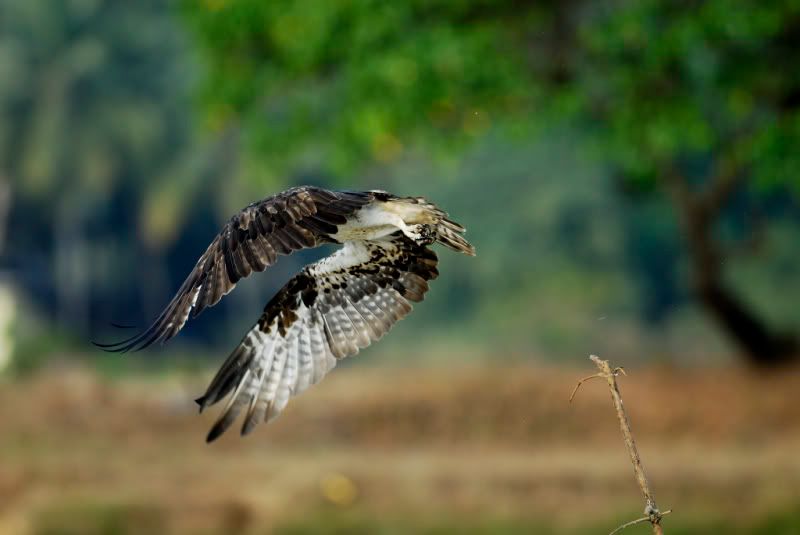 If only the EV hadn't been as it was I might have got some of those white feathers with a bit more detail, ah well, my best Osprey yet !
Towards the end of the first week we had arranged a second outing with Raymond, the guide. This time Claire agreed to come too, much to my delight. The trip was a river boat on the Zuari river, the largest in Goa and used to transport huge amounts of iron ore to waiting ships out in the ocean. To make up the numbers Raymond had enrolled Chris and Paul ( it also made up his pay packet too as we were both charged full rate for his taxi service !).
An earlyish start saw us ready to set off in the boat at about 8.30. The conditions were perfect with the first sighting being out towards the sea where the Great Crested Terns were roosting.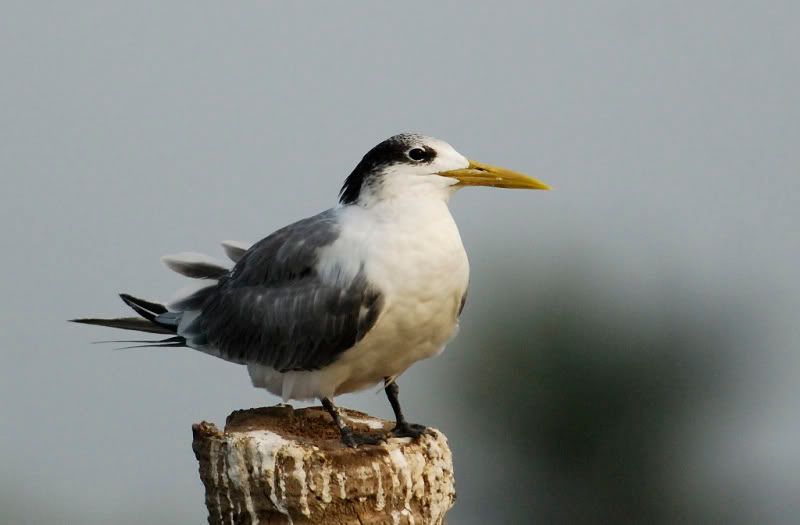 The boat guide asked us if we would like to go a bit further out as there was a White Bellied Sea Eagle sat on a post. I ask you, is the Pope a Catholic or what ?!
OK, I think we got a little too close on this occasion, but it was time to go fishing anyway.
Just look at those feet !
Anyway, we headed up stream and took some backwater canals in search of the prize.... the White Collard Kingfisher.
Along the way we also got the best views of my trip of the huge Stork Billed Kingfisher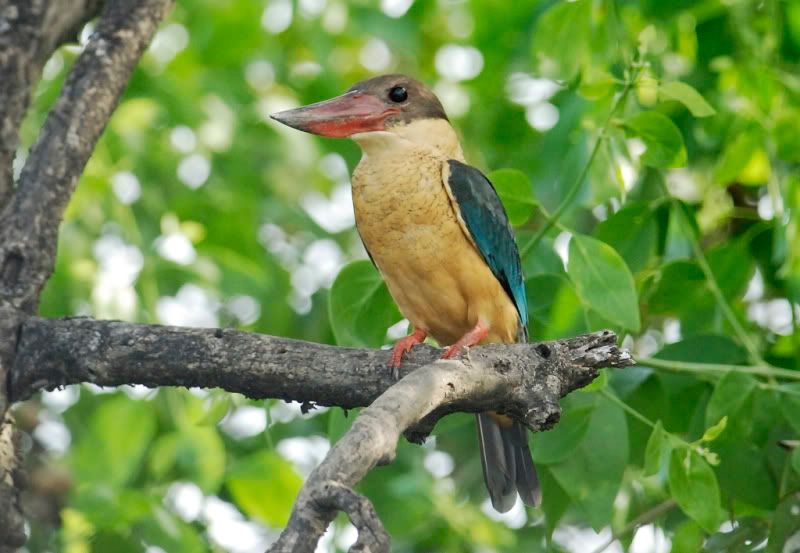 This was the only place I photographed Black Headed Ibis
and Great Knot too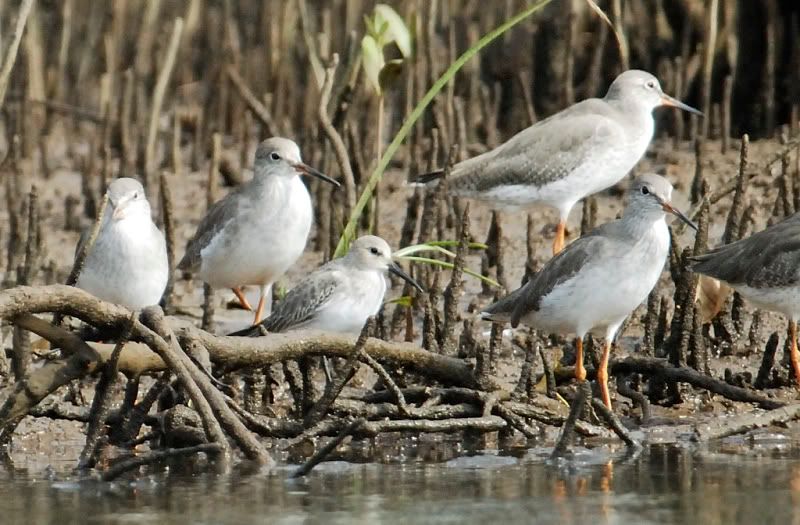 With 2 guides plus the very knowledgeable Chris and Paul on board distant Terek Sandpiper, Lesser Adjutant,Lesser and Greater Painted Eagles where pointed out. There were a couple of others that sadly I missed, mainly because they were barely visible with the naked eye and I couldn't be sure which was which !
Of course the ubiquitous Osprey was present too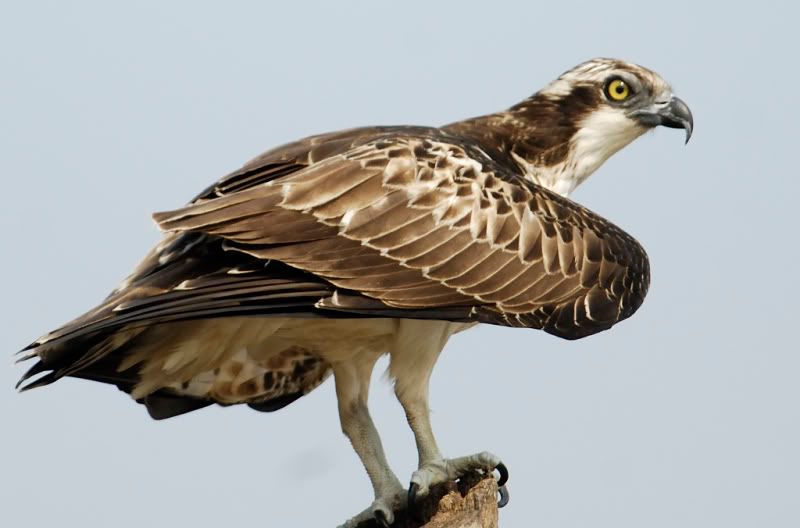 A very enjoyable and pleasant cruise well worth the total cost of about £40 for 2. We enjoyed the knowledgeable company too which is just as well because there was no way we would want to get off and walk home
With only a few more ticks added the time had come to start moving further away from our hotel in search of some woodland birds.
To be continued......