2009 was a very good year for the independent traveller. When I saw that Qatar Airways were launching their new route to Goa and at the same time adding Manchester as a departure point, I just had to investigate. The price seemed so competitive I jumped and booked two returns at a cost of £718. Investigating accommodation I discovered that Monarch holidays were ditching their block booked hotel rooms at bargain basement prices as they were cutting back on the number of package tours and flights they were offering this winter season. I could have booked the same holiday dates , the same length of time, the same hotel as last year for £1222 compared to the £1660 I paid last year to travel with Thompson Holidays. Of course, it's not quite identical in that you have to change planes at Doha, Qatar instead of flying direct but on the other hand it gives you an opportunity to stretch your legs after a 7 hour flight, enjoy a superior flight with excellent entertainment, good food and complimentary drinks. ( If you haven't been on a Thompsonfly flight you won't believe what they charge for a small can of beer and a miniature pack of Pringles).
The biggest advantage of DIY though is the flexibility to do your own thing, stay at different places and not pay for a package room when you go off on a trip to somewhere like Backwoods Camp, a famous Goan birding spot.
A DIY trip for Claire and me is meeting each others expectations for our holiday. Claire doesn't share my enthusiasm for photography, especially when it involves hanging around for ages waiting for something to happen ! I on the other hand find lying on a sunbed at Gas Mark 8 pretty boring too, especially when the brilliance of the sun glares back from the page of my reading material.
We were both agreed though that we wanted to see some new places this time around although we wanted to return to our final destination in the North for a third visit in as many years.
Our first choice was a hotel in a beach location, namely the Royal Orchid Galaxy at Utorda Beach. The southern half of Goa is known as being far less developed than the North in terms of tourism. We wanted to sample the relative quiet of the south compared to the bedlam I perceive the beaches of the tourist resorts in the North to be.
The Galaxy was chosen purely on price. At under £40 per night it was the cheapest on offer and looked OK so I booked 10 nights there. We were pleasantly surprised to find the hotel had a very high standard of furnishing, our room had a walk-in wet room shower and large wall mounted flat screen TV. The pool area had top of the range furniture and the well tended gardens led straight on to the beach.
I had done some birding research before I left and to be honest, there isn't that much information available about the south. Nearly all bird tours are based in the north are as the bird guides so I wasn't expecting too much. Google earth gave me an indication that there were no rivers within easy walking distance and so I had decided that I'd be happy if I got the opportunity to photograph the odd garden bird and if I was lucky the odd passing gull on the beach. Might even be the odd Sand Plover. How wrong can you be !
The day we arrived the weather changed. Dabolim airport isn't known for it's customer care and we que'd in the rain from the apron to get into the terminal building and go through the usual immigration triple checks, paper stamping etc. This year they have introduced another form filling que to get your swine flu declaration stamped and collected. Ah well, it was us Brits that left the bureaucratic legacy which they revel in today. Unusually, the monsoon season had continued for an extra month and a cyclone was due to hit the Indian coast line any minute.
Our first day was spent not doing too much, catching up on sleep etc and a short walk on the beach had us return to the hotel as the wind was whipping the sand up and our glasses were covered in salt spray in minutes.
I set up camera and tripod on our room balcony and was delighted with some of the visitors on the green plastic fence ! I didn't mind the rain, it was warm at least and only very light drizzle.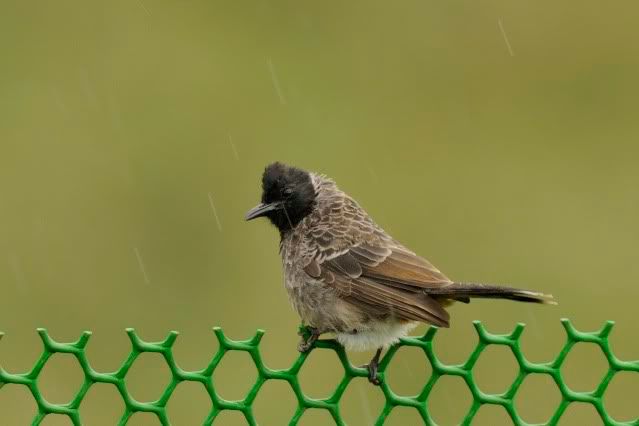 In all at least a dozen different species were presenting themselves, they would keep me amused I was sure.
The following day we walked back on to the beach this time continuing for an hour or so. I was pleased to find not too many people and a small flock of Sand Plovers that continually flew up and down that stretch depending on passing foot traffic, even more birds to keep me amused then !
The following day we chose to walk northwards, as it turned out about 3.5km's, and as far as it's possible to go before the sandy beach turns into rocky headland. To my amazement and delight there were birds, lots of birds, lots of different birds all using that stretch of beach as a roost. We also discovered that there was hardly a person to be seen. Other than one hotel a short distance from ours the only other folk were either the lifeguards and the locals from the fishing village tending their boats and nets.
A top sighting was a small flock of Pratincol, using the higher reaches of sand and grass for protection from the wind. I hadn't got my camera with me. Damn !!!!
That night the cyclone struck the coast. Fortunately for us it largely passed us by. The rain was torrential but by the following morning had cleared and the sun returned in between cloud cover. The sea was a cauldron. The previous night 67 Goan fishermen were lost at sea, caught out by the ferocity of the storm.About 30 were rescued over the next 24 hours, the rest not so lucky and it made you realise the real cost of your fish supper as you sat in the comfort of a beach restaurant.
From a selfish point of view the weather conditions suggested to me that there would be even more birds using the beach to shelter but this turned out to a wrong assumption. The Pratincols had vanished, their previous roost area washed out to a now flat formless piece of beach. In the distance though I could see large movements of what turned out to be Brown Headed Gulls which were constantly on the move as the odd lifeguard, or in this case tourist, passed them by.
Right at the far end of the beach the wooded headland is dominated by a large fertiliser factory. This has the benefit of limiting tourist development down this end. The beach stretched about 100 miles to the south I'm told so no need to come anywhere near here.
By sheer luck I had discovered a previously undocumented birding haven. The 3.5 km stretch was to be well trodden over the next week or so. I became something of an oddity to the fishermen and local lifeguards stationed every kilometre or so. They had no one else to look at, tourists could be counted on one hand. There were certainly no other birders and definitely no one daft enough to walk 7-8 kilometres everyday with a tripod and 500mm lens over his shoulder ! The best discovery of the lot was the one and only beach bar which was near the far end. I was usually his only customer and chatting I discovered that there were usually far more birds around. The weather had limited numbers. Things could only get better then. On that first day however I had got lucky and decided the weather was probably the reason I saw this Brown Noddy, normally a maritime bird.
TBC